In this periodic feature, I'll take a look at the endings of bands with interesting flameout stories.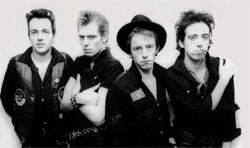 The more I learn about the Clash, the more convinced I am that their implosion is a lot like the reentry burnup of the space shuttle Columbia– the fiery, visible disaster was just the inevitable result of seemingly innocuous events that happened quite a while before.
In the case of Columbia, a chunk of foam insulation broke off of the shuttle's external fuel tank during launch and smacked into the ceramic tiles that comprised the craft's heat shield. These "foam strikes" were common events during shuttle launches, and were considered no big deal. Columbia made it into space and spent 2 weeks in orbit conducting business as usual. Then, as the shuttle broke orbit and glided through the atmosphere at Mach 24, the heat shield failed where the foam had struck. At the speed the shuttle was travelling, this was fatal; the craft wrenched itself to pieces, and the wreckage burned itself down to the ground.
And so, the Clash. I think they were pretty much cooked the second they signed their contract with CBS. Mark Perry of the fanzine Sniffin' Glue famously said that "Punk died the day the Clash signed to CBS;" I've never agreed with that sentiment, but I do think that the signing of that particular contract started a countdown that led, more or less inevitably, to a rump version of the band releasing a farewell album so terrible that polite society has chosen to pretend it doesn't exist.