(this is an updated version of a piece I originally wrote in 2004; it was updated again in September of 2016. Hopefully it will not need to be updated yet again for a while)

1. 1978 Dodge Warlock pickup 
Period of use: December 1990- early 1991
Comments: customized for racing on the dirt tracks of rural Oklahoma; idled at 35 mph, requiring constant use of the brakes while driving. Famous throughout Blair, Nebraska for glasspack mufflers which allowed the truck to be heard over a mile away and for gas mileage below 10 mpg. Lacked rearview mirrors of any sort.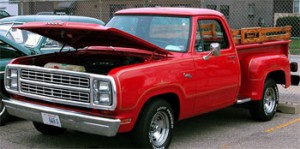 Eventual fate: sold due to constant mechanical problems of varying magnitude, shortly before a massive systemwide collapse left it looking like Sheriff Buford T. Justice's car at the end of Smokey and the Bandit.
2. 1982 AMC Spirit 
Period of Use: early 1991- March 1993
Comments: one of the curiously large "compacts" of the early 80s. Much-beloved and far more reliable than the truck, although hardly free of mechanical trouble (the driveshaft fell off during one drive to Omaha; the clutch burned out on a country road). At one point my father installed a dashboard 8-track, against which I railed vigorously.
Eventual fate: retired from service after chunk of transmission housing broke off and fell into clutch assembly.