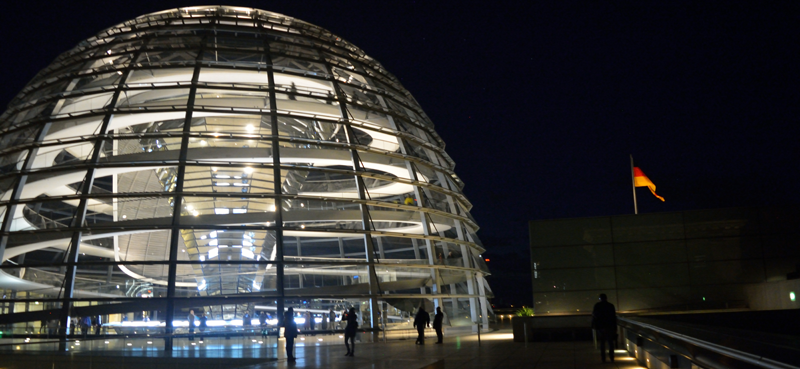 As my wife and I were flying into Berlin, I experienced a small wave of panic. What had I gotten us into? Was this going to be boring? What was there to do here, really? My initial pitch for Berlin as a vacation destination was that I wanted to go because of "all the history." That sounded great and persuasive, in a vague way, sitting in Minneapolis. But now that we were about to arrive and spend a week in a foreign city where we didn't speak the language, what did it actually mean? A week of looking at historic-site plaques? Was this going to be boring and dumb?
Happily, my little moment of freakout was entirely misplaced, and my initial instincts were right on point. Berlin isn't a city with a lot of obvious, high-profile capital-letter Tourist Attractions; but it's something much better: a fascinating, beautiful place where the weight of history is indeed so present and prevalent that if you're interested in it at all, you can't help but feel like you're swimming in it.
I've been obsessed with World War II since I was 7, when I stumbled across a series of Time-Life books about the war, full of arresting, graphic photos, that my parents had left sitting around (my parents did a spectacularly bad job of shielding me from age-inappropriate material when I was a kid). My obsession with the cold war started about a year later, when my 3rd grade teacher rhapsodized proudly to my class about how our city of Blair, Nebraska, being just up the road from Strategic Air Command HQ in Omaha, would be one of the first Soviet targets when the missiles flew.
These obsessions were the initial impetus for wanting to see Berlin. My last-minute panic was based on a fear that neither the cold war or World War II lent themselves to spaces that made for fun vacation visits. My salvation was that this didn't matter when the fabric of the entire city is visibly and irreparably altered by events. I can't say that it's fun to stand in the Tiergarten and read a plaque about how the trees surrounding you were all completely deforested by air bombardment and by Soviet troops advancing over the ground you're standing on, or to stand in front of your hotel and look at the memorial cobbles commemorating Holocaust victims who once lived there; but it's affecting and awe-inspiring in a way that transcends fun. It hits you on a different, deeper frequency. It drives home the way in which you are part of a larger continuum of human experience.
It's one thing to walk into a museum and look at art and artifacts. It's another thing entirely to see bullet holes in the interior wall of that museum and realize that what you're looking at is evidence that there was a firefight in this building between people trying to take the building's contents and people trying futilely to defend them. Again, that's not fun, but it's profound and affecting on an entirely different emotional spectrum.
(And about that fight: the scene I'm describing here is in the Neues Museum, which is largely full of Egyptian artifacts looted from Egypt by Prussian archaeologists in the 19th century; the top few floors, though, are European objects. Several gallery labels and signs on those floors pointedly mention that objects formerly on display here were looted by Soviet soldiers, taken to Moscow, and never returned. The irony of this kind of complaint in this kind of building is exactly what makes the historical experience of Berlin so mesmerizing.)
Consider this: in central Berlin, on land that was once part of the Berlin Wall and its "death strip," is the Memorial to the Murdered Jews of Europe, an immersive, block-wide labyrinth of pillars that is one of the most viscerally affecting memorials I've ever experienced. On a block adjacent to this memorial is the nondescript parking lot that is the former site of the bunker where Hitler killed himself and was cremated. Running between these two blocks is a street named after Hannah Arendt. The historical resonances of Berlin come in a very strong, undiluted form.
History is a river. Things happen, and subsequent things downstream are driven by what happened previously. Hitler hijacked the German political system, started a war and conducted genocide, and Berlin was occupied and nearly leveled as a result; and then, downstream from that, the occupying forces eventually split the city in half, traumatizing the city with an unnatural internal boundary for half a century. That trauma, and the subsequent jubilation and rebirth, are as plain to see in Berlin as the immediate effects of the war. In place names (Rosa Luxemberg Platz, Marx-Engels Platz), architectural styles, and even traffic signage, the old separation between west and east is still plain to see if you bother to look for it. And that's ignoring the hunks of the wall itself that have been left up as commemorations or memorials or just plain tourist attractions.
I can't think of any American cities that have left me this strongly with the sense of standing amid the structure of history. The closest I've come is the southern end of Manhattan. New Orleans probably can provide the same effect if you walk around with your eyes open in the right way. I haven't been to Boston, but I'm sure it has some amount of resonance. But overall, American cities operate under a couple of different conditions: no American city has undergone repeated traumas as massive as Berlin, and the American mode of operation is to march stridently away from the past, not to acknowledge it. You'll find precious few memorial cobbles scattered around American cities to commemorate the victims of slavery or the Native American genocide. And as far as that goes, I'm painfully aware of my own white middle-class nature here; when I say that "no American city has undergone repeated traumas as massive as Berlin," I recognize that, say, Dakota people currently living in Minneapolis no doubt have an extremely different viewpoint on that matter.
To my perception, at least, the everyday culture of 2019 Berlin had a laid-back, free-spirited vibe that I found immensely refreshing. In all kinds of little ways, from casualness with dogs to willingness to abruptly repurpose old buildings to surprisingly low levels of fussiness (and disclaimer paperwork). In the aggregate, this seems to me to add up to a much greater tolerance for uncertainty and risk in Berlin than one finds in litigious, fear-dominated America. Maybe that's just the German national character now, or at least the Berlin civic character. But maybe it has something to do with living in a city that's been through several different flavors of hell within living memory, much of it self-inflicted, and then undergone a rebirth. After all you've been through, all of which you still viscerally feel just walking down the street, why worry about whether people on a bike tour are wearing helmets? What's the worst that could happen?
In 1933, a fire gutted the Reichstag building, giving Hitler the political opportunity to consolidate power and bring the Weimar Republic era to a formal close. In 1945, the shell of the Reichstag building served as one of the final redoubts for German soldiers defending the city, and the central objective for Soviet soldiers fighting through the Tiergarten and across the river Spree. After Germany reunified, the building was rehabilitated to serve as the seat of the new German parliament. To symbolize the new era of governmental transparency, the Reichstag's original 19th-century dome was replaced with a large glass beehive lined with spiraling walkways, from which one can climb up and look out at the city, or down at the legislative chamber directly below. The vagaries of trip scheduling dictated that we could only get in to climb the beehive at 9:45 on the last night of our time in Berlin, so we visited it on a clear, slightly chilly spring night. It is by far the most beautiful and aesthetically powerful governmental building I've ever been in, so emotionally affective that even the presence of an enormous group of rowdy Italian teens wasn't enough to stop it from being wonderful, standing there at a focal point where history happened and where the future is created, staring out at the rest of the city. It turns out that Berlin does indeed have some world-class tourist attractions.