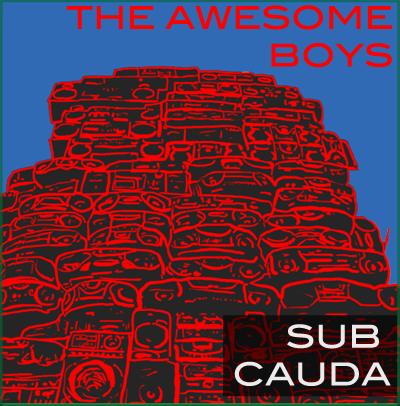 So, yeah. After working on it for most of 2012, I've finished and put out an EP on behalf of my fictional band, the Awesome Boys. It's pretty good stuff, I think; if nothing else, it's a good approximation of what the inside of my head sounds like, processed into something catchy and entertaining.
In an email to a local rock writer, I described the album thusly:
It's always hard to come up with a description of your own music, but I guess I'd call Sub Cauda "ambitious garage rock." There's a lot of guitar and weird noises coaxed out of a Kaossilator. You could maybe say it's music that draws equally from the Flaming Lips and Guided By Voices. Or probably not. But that's a start, I guess.
That's probably as good of a description as I can do. Anyway, go check it out! The whole thing is free to stream or download on my Awesome Boys site; or if you prefer SoundCloud, 5 of the 6 songs (minus a pretty rad Bowie cover) are streaming over there.