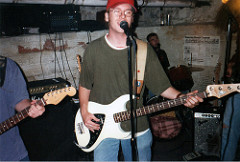 As I write this, I'm about halfway through a master's program in art history. And for the most part, I like it a lot. I like being exposed to new art and new ways of thinking and being able to get into deep discussions with smart people about works of art and lesser-known artists.
There is a side of it I don't like, though – one that doesn't come up in class too often, but dominates when I'm talking to people outside the program about it. If I mention that I'm studying art history, people naturally seem to want to jump to talking about classifications. Is Van Gogh impressionist or post-impressionist? Is Frank Gehry a deconstructionist architect?
I know there's some value to that kind of discussion, but I think it's minimal. It's more interesting to talk about Frank Gehry's architecture itself than whether it fits into an arbitrary category (a category made up, in this case, retroactively for a museum exhibit, borrowing a really unrelated term from lit theory). And more importantly, these discussions remind me of another ongoing argument that's been annoying me for years: is Motorhead's "Ace of Spades" a punk song?